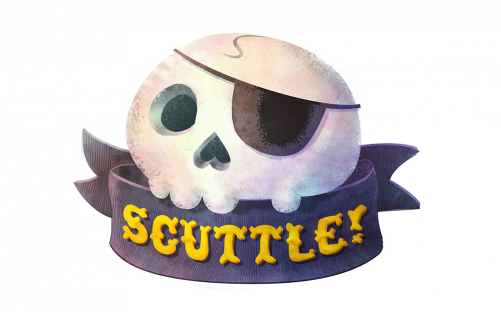 Scuttle!
 is a card game for 1-5 valiant pirates, suitable for players as young as 6. Based on the classic game 
Cuttle
 (believed to be the precursor to 
Magic: The Gathering
), 
Scuttle!
 has been infused with the drama of the high seas thanks to creative updated rules by Peter C. Hayward. With gorgeous, adventurous art by Kelly Jo, 
Scuttle!
 is fun for the whole family.
In this fast-playing card game, players scheme, battle and steal to be the first to collect 21 doubloons. Each turn either draw a card or play a card – cards can be played as either treasure or as an action. Do you want to draw 2 cards, or steal the treasure chest your opponent just played? Or would you rather wipe the board…knowing that your booty is protected!
Make use of monkeys, rodent-powered cannons, sneaky rats and loyal parrots to protect your treasure from the other pirates. The waters are treacherous, so take what you can, and give nothing back. But be warned – dead men tell no tales!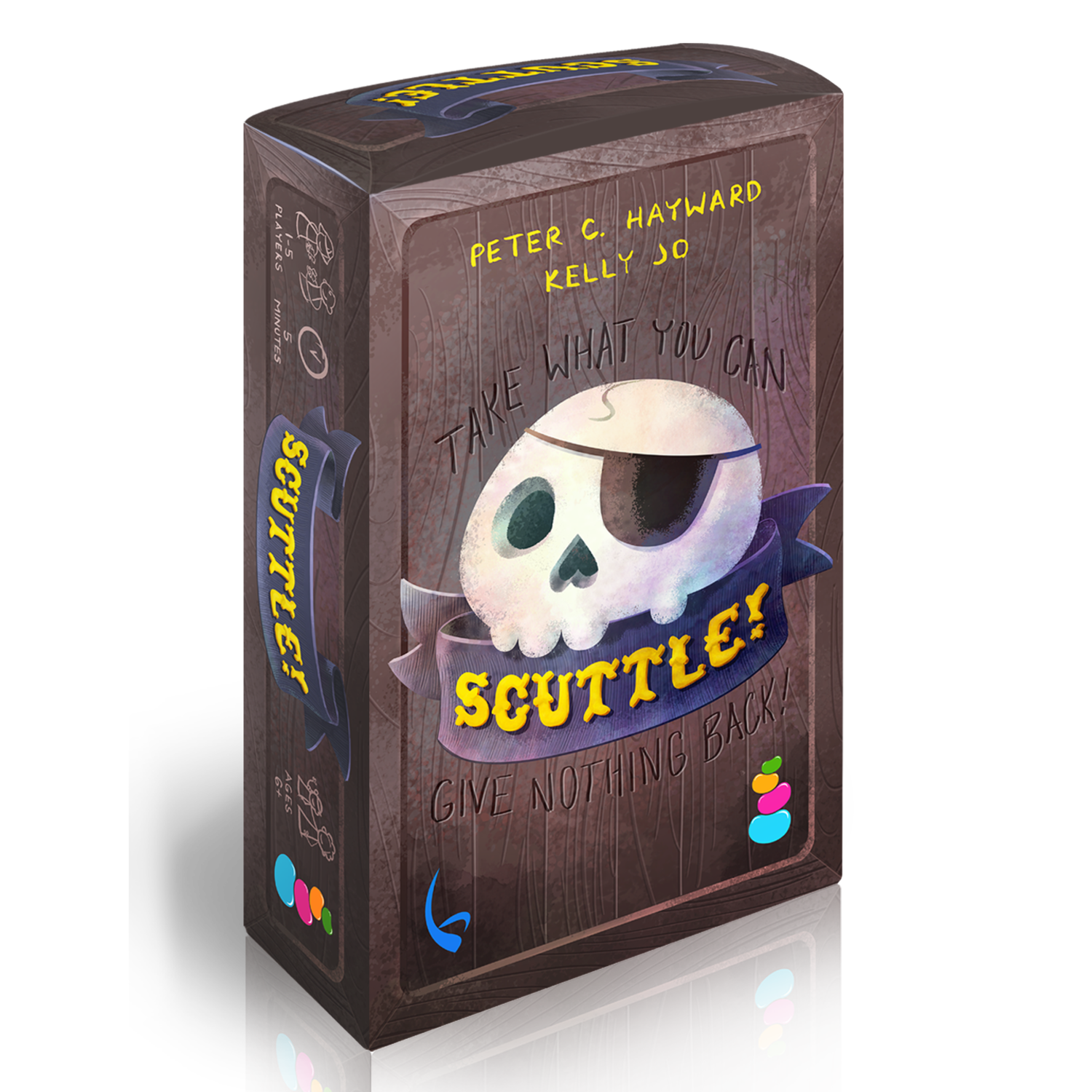 Brian's Got Game
"The artwork is wonderful, the strategy is easy for kids – we really liked it."
Cyrus Kirby, Fathergeek.com
"A fun, fast, and very casual card game anyone can play."
Board Game Authority
"A great addition to family game night. Fun and short enough that you'll find yourself playing multiple games in a single sitting."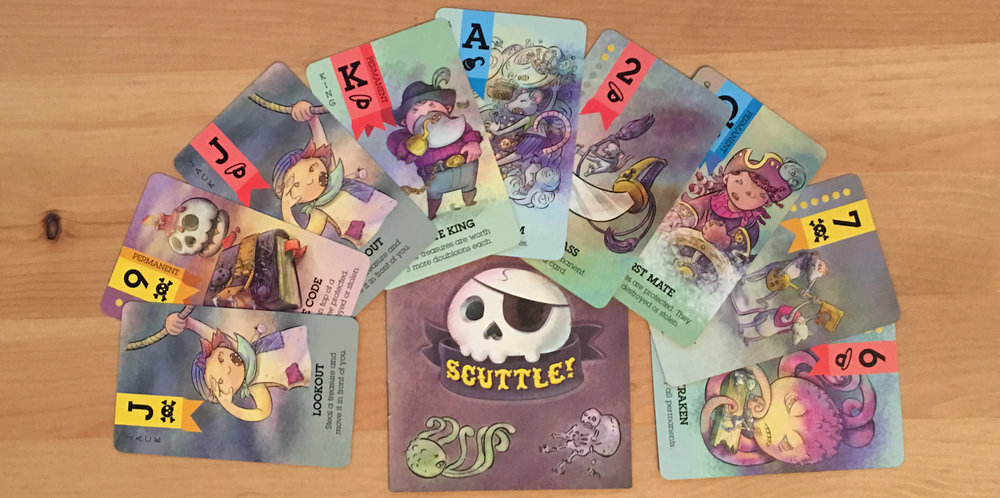 Scuttle!
cards:
1x Ace – Maelstrom
1x Ace – Mutiny
1x Ace – Shiver Me Timbers
1x 1 – Lifeboat
1x 1 – Jolly Roger
1x 1 – Ship's Wheel
3x 2 – Cutlass
3x 3 – Monkey
3x 4 – Cannon
3x 5 – Treasure Map
3x 6 – Kraken
3x 7 – Skeleton Key
3x 8 – Spyglass
3x 9 – Pirate Code
3x 10 – Treasure Chest
3x Jack – Lookout
3x Queen – First Mate
3x King – Pirate King
1x Joker – Anne Bonny
1x Joker – Henry Morgan
1x Joker – Long John Silver
1x Joker – Madame Ching
1x Joker – Stowaway
The Curse of Black Jack
cards:
Ace – Black Spot
1 – The Plank
2 – Poison
3 – Parrot
4 – Dagger
5 – Powderkeg
6 – Sea Serpent
7 – Grappling Hook
8 – Crows Nest
9 – Grog
10 – Buried Treasure
Jack – Sirens
Queen – Voodoo Queen
King – Governer
Joker – Black Jack
Joker – Ghost Pirate
Scurvy! 
cards:
Disease – Beriberi
Disease – Cabin Fever
Disease – The Dreaded Cooties
Disease – Food Poisoning
Disease – Sailor's Bane
Disease – Sea Sickness
Disease – Scurvy
Disease – Typhus
Disease – Piratitis
Disease – Pox
Disease – Yellow Flag
2x Joker – Ship's Doctor
2x Joker – Vitamin Sea
Scuttle!
promo pack cards:
Joker – Jellybeans
Joker – Captain Bluebeard
Joker – La Capitan
Joker – Catbeard the Pirate
Joker – Ninja
King – Vampirate
Joker – Firestarter Kelly